An Indian doctor's mission to deliver low-cost hospitals could revolutionise the provision of healthcare in poorer countries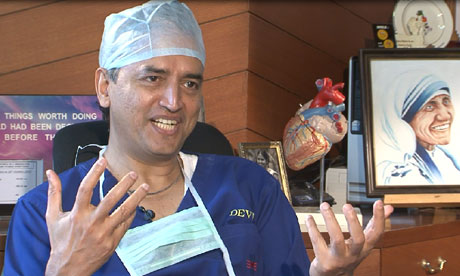 Dr Devi Shetty at work. Photograph: Rosalind Miller
This year heart disease overtook communicable diseases as the number one killer in India, mainly affecting breadwinners. More than 2 million Indians need, but cannot afford, heart surgery. That may be about to change.
While surveying the blueprint drawings of a new 300-bed speciality heart hospital in Mysore, Dr Devi Shetty announces that his facility will be completed within four to five months with a total investment of about $4m. Traditionally in India, such a hospital would cost nearer $30m and take around three years to build. Shetty's goal is for his low-cost model to make heart surgery accessible to the millions in need.
Originally trained as a cardiac surgeon in Britain's NHS, Shetty is famed as chairman and founder of the Narayana Hrudayalaya "health city" in Bengalooru, where open-heart surgery costs a fraction of what it does elsewhere in the world. By performing a high volume of operations in his 1,000-bed "heart factory", Shetty passes on the efficiency savings achieved to patients. He is pursuing a one-man mission to drive down the cost of hospital care. "Today, most diseases can be cured and if you cannot cure a patient, you can give them a meaningful life," he says. "But what percentage of people can afford it? If a solution is not affordable, it is not a solution."
In addition to offering low-cost surgery, he treats the most needy patients free of charge by subsidising their care through charging those who can pay a higher rate. He has also set up the Yeshasvini scheme, in which, for five rupees (about $1) per month, farmers in Karnataka state can insure themselves against healthcare expenses. The model is proving to be a vote-winner for politicians, and is being replicated across the country. Read More
Source: Guardian.co.uk